On April 14th, the recently revived Organ Grinders series presents HÄXAN with accompanyment by Boston bands Jaggery and Walter Sickert & The Army Of Broken Toys .
Based partly on the Malleus Maleficarum, a 15th century German guide for anti-heretical Inquisitors, this Swedish silent film from 1922 was, at the time, shocking. Banned in the US for years and heavily censored in many other countries, HÄXAN was made as a documentary, but plays like a horror film. Witchcraft. Demons. Satanism. All these themes make this a truly entertaining watch.
Jaggery 's sound moves from haunting lullabies to intricately-woven, mixed-meter rants to catharsis-inducing, barn-burning mini-epics ~ oftentimes within the same song. The Boston-based five piece establish themselves in a league of their own with a genre-defying style ~ blending elements of darkwave, jazz, classical, ethereal avant-rock, and chamber art-pop.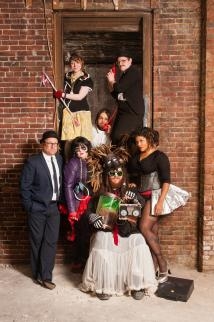 Walter Sickert & The Army of Broken Toys are the spinners of a charming, demented fairy tale that gathers new characters all the time. The results have been described as a "Dada-esque circus carnival run amuck," by Boston Survival Guide. Whether live or in album form, Walter Sickert & the Army of Broken Toys will transport you to a realm where imagination rules, and sound is alive. You may not sleep tight, but your dreams will be like none you've ever experienced.
---
ORGAN GRINDERS From under the screen, the sounds of modern groups are paired with movies from a different era, updating the genre of Silent Film accompaniment to the sounds around us today. Organ Grinders revisits the original vision of the Hollywood Theatre, built in 1926 with an orchestra pit and a hydraulically ascending theatre organ.
Sponsored By: